Numberland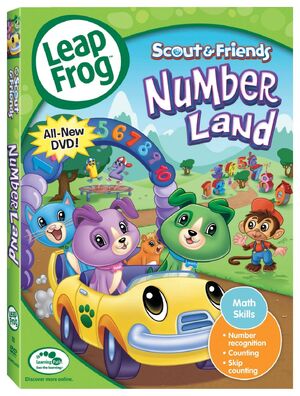 DVD guide
Year
June 20, 2006
Run time
35min
Rating
N/R
Numberland is a Scout and Friends DVD.
Review
Join Scout and his friends for exciting learning adventures from the world of LeapFrog. When the pets long to learn about numbers, their magical car, Axle, whisks them away to Numberland. With the help of a new friend, Max, the pets meet all the numbers in the land and master basic arithmetic skills. Then it's time to help the residents of Numberland plan a surprise birthday party for Max. It all adds up to plenty of fun and adventure as you sing and count your way through Numberland with Scout & Friends!
Plot
A garden must be planted, and a gopher messes all of the seeds up, can the crew learn about numbers and plant the garden in time?
Characters
Major Characters
Travia
The gang heads over to Numberland and meets some new friends.
RUN TIME: 31 MINUTES
Gallery
If you wish to visit the gallery click here!