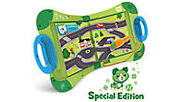 Description
The LeapStart is a remake of the original LeapPad, containing a bunch of activities triggered by books. 16 books are sold separately for it. There are educational "touch-and-talk" games, creative challenges, problem-solving puzzles, and math mazes as some of the activities. 
Scout and Friends relations
There is an educational book that works with it called 
Scout Math
.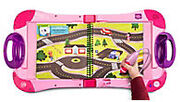 It is for preschoolers and it triggers beginning math activities.
In 2017, 2 new versions of the LeapStart were released. A Scout-themed version, which is green with blue handles and pale green paw print designs, and a Violet-themed version, which is pink with purple handles and pale pink paw print designs. On the back, they both have a picture of the character they represent.